McVey "fore" the win
By Connor Latlip
The Jag
The Blue Springs South girl's golf team finished 2nd and had an individual win state this season. In the past the team finished 1st back-to-back years in 2001 and 2002. The Jags finally got their source of inspiration from Maya McVey.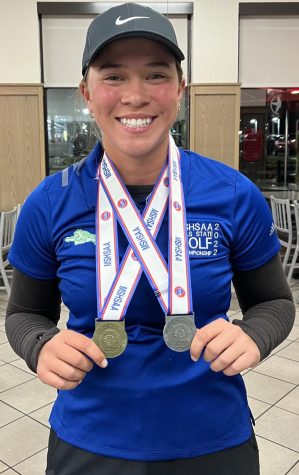 Senior Maya McVey won the individual state title. She is the first Jaguar to win the individual state title in South's history. She won with a score of 146, six strokes ahead of second place with 152. 
When McVey won state, she didn't feel that it was possible.  
"If you told me that I was going to win state, I wouldn't have believed you," she said. 
It takes a lot of work and practice to get to state, but it takes more than that to win it. Maya put in a lot of effort into her practices. She also plays in a golf league over the summer, and that prepares her for the high school golf season.   
While having a great season, McVey did go through some ups and downs. She had a two-week struggle between the Wildcat Invitational and State. But she fixed her stroke and now she is a state champion.  
"I think it had to do with my putting. Right before State, I tinkered with my grip on the putter, and I started making more puts. State wasn't easy; I was hitting into the trees, but I felt like I was pretty good and the recovery shots and that's how I was able to pull it off," she said. 
South's golf coach, Casey Enright, helped her to become a good golfer and set her up for success. He was very happy that one of his players won a state title. Enright said that McVey is humble and self-driven.  
"Maya's one of those kids who is self-driven and dedicated to the sport of golf. She works harder than anyone I know. She works so hard at the game, not only in our practices, but outside of practice," he said
The golf team had one of its most successful seasons in recent years, finishing second in state. They also won state as a team in 2001 and 2002.
Junior Mia Farrar placed 25th with a score of 173. Sophomore Zoe McVey placed 34th with a score of 178 and Junior Stephanie Giron placed 68th with a score of 202.
"We've never had an individual win state, but it's been 17 years since we qualified as a team," Enright said. 
The Jags didn't finish worse than second place in any tournament they played this season. They played in 9 total tournaments and the team had six second place finishes and three first place finishes. 
They finished behind St. Joseph's Academy with a team score of 640, and finished ahead of Liberty North with a team score of 707. The Jags had a team score of 699.
"It was a very successful year for the team," Enright said. 
Finishing 2nd place opened the eyes of many. It gives this golf team a sense of motivation for next season. The Jags have all but two players returning for next year.  
"It shows all of our players what we're capable of," Enright said.