Blue Springs South Jaguars' softball team wins BIG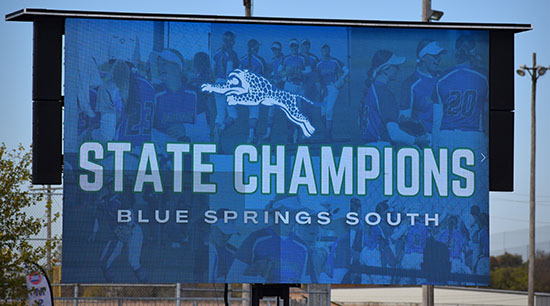 By Connor Latlip
The Jag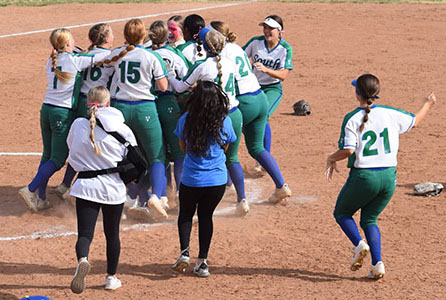 The Blue Springs South softball team won state, beating Francis Howell 10-2. This is their 3rd state championship in the last 5 years in 2018 and 2019. The Jags went 33-2 on the season, marking the best record in program history.  
The game was scoreless through three innings, then in the fourth, the Jags scored 4 runs off two-run homeruns by junior Abbie Wilhelm and junior Mya Bristow. They scored three runs in the 5th inning, two runs in the 6th inning and then one run in the 1st inning. Francis Howel scored one run in the bottom of 4th and the bottom of 5th inning.  
"Once we got to four runs, I felt really good, and when we got six runs, I knew we were not losing this game," Williams said.  
It takes a lot of work and practice to make it to state, but it takes more preparation to win it.  
"It felt amazing. We've been working so hard all year and to finally win, it just felt great," said Bristow.  
The seniors on the team played their last game as a Jaguar, and what a better way to do it by going out with a bang, however, it is sad that the seniors are leaving.  
"It was sad. I think most of us were crying because we love them so much and we've played with them for so long," Bristow said.  
Usually, when there is a big game or a big situation, teams start to press and let the moment take over, but that didn't happen in this game, the Jags stayed composed and they had the right attitude and mindset going into the game.  
"They didn't allow the moment to get too big for them," Williams said.  
The team averaged 8.8 runs per game, the most in program history, and allowed 3.1 runs per game during the regular season. The Jags had a 7-0 record at home, a 9-1 record on away games, and 17-1 at neutral venues.  
The Jags have won three state championships, finishing second place twice and placing third, in a 7-year span. The Jaguar's legacy is still alive, and it continues to live on for next year.