It's comeback season for the boys varsity basketball team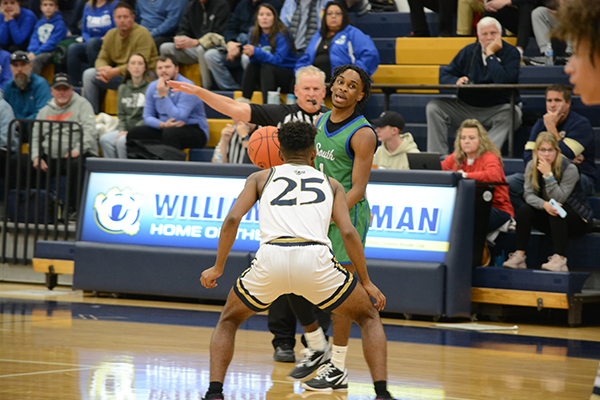 By Connor Latlip
The Jag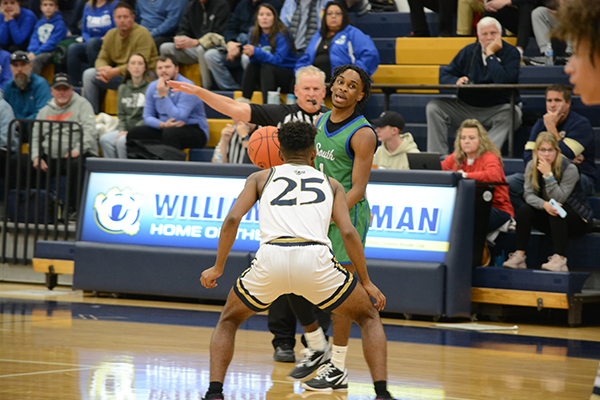 The Blue Springs South Jaguars basketball team is turning some heads this year. Doing better than they did last season.  
Last year the boys basketball team didn't have a great season, going 0-24. But this year they have a record of 8-11. The Jags had a couple of close losses against North Kansas City and Grain Valley. They've also had close wins against Rockhurst and Raymore-Peculiar. 
In early December the Jags played in the Blue Springs School District tournament, and beat Rockhurst, 34-33, and Ozark, 41-39, but lost to Staley, 71-40.  
Over the winter break, the Jags played in the William Jewell tournament, and Jags lost to Belton 64-51, but beat St. Pius 79-48, and Grain Valley in a close one, 53-52.  
The Jags are 2-4 in districts and are 1-3 in their conference.  
"To have eight wins at this point, I feel pretty good about what we've been able to accomplish," said head coach Josh Smith. 
Last season, the Jags didn't have depth. This season, that is one of their strengths. Smith said that he believes that there are nine to ten players that can contribute to the team at the varsity level.  
"There have been times this season where we've gotten contributions from many players, and that has helped us be successful as a team," Smith said.  
With every team, there's going to be weaknesses and the Jags' weaknesses are the turnovers and the players' shot selection. Smith said that they need to clean up the defensive side of things. 
"If you can't keep the basketball in front of you, you're going to have a hard time keeping the other team off the scoreboard," Smith said.  
Smith said last year they had a team that couldn't get it done at the varsity level. Some of the players returned this year and gained experience playing at that level. 
"They learned how difficult it was to win at the varsity level and that's helped them be more successful this season," Smith said.  
On the players' side of things, senior point guard Michael Brooks said that this year they are playing as a team, not playing for themselves. 
"I feel like we're more of a team this year. Last year we were more individual players on the court and a lot more selfish," Brooks said.  
With last year behind them, the team is not looking back on how the season went, but they used it as motivation instead.  
"If we didn't have the season that we had last year, I don't think that people would be as hungry or motivated this year," Brooks said.  
 Senior forward Liam Bryan said that the team improved this year on both sides of the ball.  
"We've really improved from last year. We have built on some things from last year with our offense and defense and I think that we can be a threat in districts and in conference," Bryan said.  
Bryan didn't want this year to be the same as last year. Their record is already showing their improvement.  
"It's comeback season," said Bryan.  
The Jags' next game is today at 7:00 pm against Barstow in the Grain Valley tournament.