POC & Allies Club hosts second annual Open Mic Night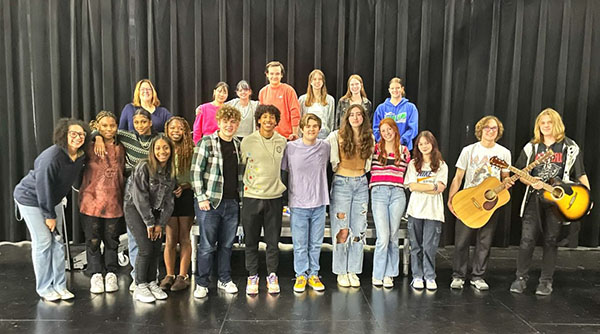 By Olivia Svoboda
Editor-in-Chief
On a small stage in the black box, senior Kendall Morris told the story of a lesbian couple facing discrimination. Her voice echoed through the dim room. A small audience, hot chocolate and cookies in their hands, watched from rows of chairs. 
This was only one of the performances from the Open Mic Night hosted by the POC & Allies club on the night of Wednesday, January 18th. 
The event was attended by South students, along with a few Blue Springs students and parents coming to support. 
Junior Aaliyah Jackson is one of the four student leaders of the POC & Allies club. 
"We did [Open Mic Night] to give people an opportunity to express themselves and share their voice in the school and be comfortable," Jackson said. 
The event saw a variety of acts, from songs to poems to forensics routines. The hosts also lead a few games to fill in the gaps between performances, such as 'would you rather' and a pickup line competition. 
There was no sign-up list to perform; all attendees had to do was raise their hand, and they could walk up to the stage to express themselves. 
Kendall Morris performed her original piece "Why Are You Hurting Us." 
"I did a POI, which is Program of Oral Interpretation. It's a forensics event, and it's with a book, and you combine a lot of different pieces like poems and prose and articles to make an argument," she said. 
Her piece is about the discrimination faced by LGBTQ+ people. 
"I used 'Tiny Dancer' by Elton John and 'Dance with You' from the Broadway musical 'The Prom.' This story [is] about a girl's girlfriend that was hurt by people at her school and had to go to the hospital because of a coma, and how she felt about that," she said. 
Morris explained why she performed at Open Mic Night. 
"I thought it was an important message to share and that's what Open Mic Night was about, sharing important things about yourself. [It's] a chance to be free about yourself and not be scared," she said. 
Another performer was senior Donte' Thomas. 
"I make songs, so I made one of my rap songs into a poem and I just said it very dramatically, and it was beautiful in my opinion," he said.
He performed his original works "It's Worth It" and "Hot Pocket." 
"[Performing] looked very fun. The people who I was sitting next to … they were like 'bro, you should rap.' I was like 'okay,' so I went up there, and I did it, and I lived," he said. 
Each POC & Allies leader performed a poem of their choice as well. Jackson read the poem 'Love Again Blues' by Langston Hughes. 
"[The poem] was from my class. We're talking about the Harlem Renaissance, and it was a poem that my teacher introduced to us, and I really resonated with it," Jackson said. 
The POC & Allies club hosts Open Mic Night annually. Those interested can attend the next event in January of 2024.