Murder-mystery 'Clue' makes its way to South's stage
By Olivia Svoboda
Editor-in-Chief
"Clue: On Stage," the upcoming production of South's theater department, has become a larger project than theater teacher Timothy Haynes expected. 
"I thought it was going to be really easy, so that's why I chose it. Then as we were going through the process of figuring out a set, figuring out costumes, props, all this – I found out it was actually really hard," Haynes said. 
"Clue: On Stage" is a satirical murder-mystery based on the 1985 movie "Clue," which itself was based on the classic board game. Set in the 1950s, six guests, each given a pseudonym to hide their true identities, are invited to a mysterious dinner party at a remote mansion. Before long, murder and mayhem occur, and the guests must determine which one of them is the killer. 
Among some of the major challenges of the play is the set. Haynes, retired teacher Jon Frentrop, and the student tech crew had to figure out how to fit a mansion on South's stage. 
Senior Braeden Sholes is the crew chief for "Clue: On Stage." He's in charge of what goes on behind the scenes. 
"All four rooms move out on wheels. They don't swivel. That is a huge challenge trying to get [them] to roll out and not go crooked," Sholes said. 
Each room had to appear lived in as well, so Haynes enlisted the help of teacher Lauren McKiddy and her interior design class. 
"I wasn't quite sure what things would look like even a month ago, and that's not really like me, but because of her class, and because we wanted it to be more of a cooperative experience, I had to be comfortable with letting me not know things. Even right now Mrs. McKiddy's class is going out and getting things to decorate the set with, so I still don't know what it looks like, but at least I don't have to worry about it," Haynes said. 
The theater department also invested in a 3D printer that will ultimately save costs on props. 
"A prop gun costs like twenty bucks, but a 3D printed [prop] gun that we paint costs like four dollars. It's going to save us a lot of money," Haynes said. 
While the tech crew worked on the production behind the scenes, the cast focused on the performance itself, making sure their lines and comedic timing were perfect.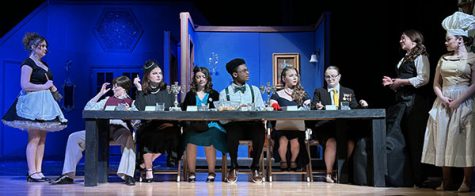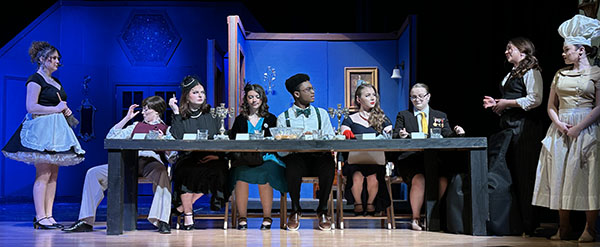 Senior Sienna Hoopingarner plays femme fatale Mrs. White, who she described as eerie and pompous.
"This play is more making comedy through every character interacting with each other. You have to work as a team a lot more, and you have to play off each other and improv things, which is new for me. It's a good experience. It's new and it's fun because you get to work with other people and make jokes out of your body language and stuff like that. It's also just a lot more involved because it has sound effects for everything, so you have to pay attention and know everyone's lines, so you know when to react or what to do," Hoopingarner said. 
"Clue" has been different for Hoopingarner both in comedy and in tone. 
"We do these funny parts where we run to music, and it's ridiculous. I just think it's fun. It's been a while since we've done a really, really fun play. Our last few plays had darker themes, and this one is just funny the entire way through," Hoopingarner said. 
A murder-mystery might not seem to be a hysterical topic, but "Clue: On Stage" defies expectations with ridiculous, over-the-top scenes. 
Senior Natalie Spicer is the absurd Mrs. Peacock, who she described as a rich, alcoholic old woman. 
"There's a part where Mrs. Peacock drinks a drink that may or may not be poisoned, and I have a whole fit over it. I get to just scream my head off, which is really fun. It's so outrageous, and so unlike how I usually get to act at school," Spicer said. 
South has a large theater department, but "Clue: On Stage" has a smaller cast, which is new to Spicer. 
"Something really unique and wonderful about this show in particular is that the cast is small and we're all really close with each other, which I think not only helps acting with each other and being around each other for three hours after school every day, but also just how it comes off in the show. I think you can really tell when people like each other or not, and it helps the whole show's chemistry," Spicer said. 
While the audience watches the performance, Sholes and his crew will make sure "Clue: On Stage" goes as planned. 
"Backstage is a lot of short, few minutes of frantic running around, fixing things and then sitting down and just watching and waiting. Then all of the sudden, it's 'oh shoot, something happened,' and you're running around again," Sholes said. 
"Clue: On Stage" will be performed in South's PAC on February 16th and 17th at 7:00 p.m., as well as February 18th at 1:00 p.m. and 7:00 p.m. Tickets are available at search.seatyourself.biz/webstore/accounts/bsshs/buy-tix, or they can be bought at the door. 
Despite the challenge "Clue: On Stage" has presented, Haynes doesn't regret choosing it as this year's play. He believes the difficulty makes it more fulfilling. 
"It is the craziest thing we've put on stage so far," Haynes said.