It's a 'strike' for South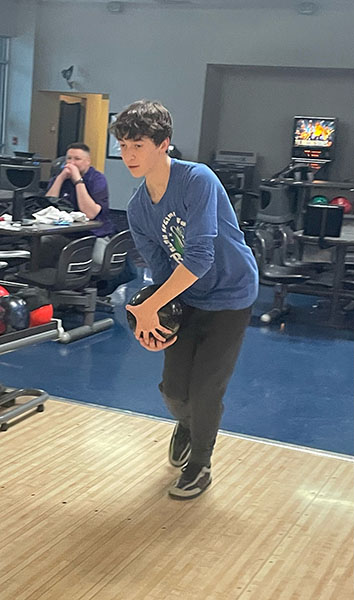 By Connor Latlip
The Jag
There is a new club at South, and it is the bowling club. The student who came up with the idea of starting the bowling club is sophomore Kaeden White. White has always loved bowling and that's why he wanted to start this club.
"Since I've always loved bowling and wanted to start a club, I went to Mr. Mooney because I knew he enjoyed it," White said.
Bowling is something that caught White's interest. He has bowled for four years, and he hasn't stopped since, bowling almost every day at Lunar Bowl and other bowling alleys across the area.
"It's kind of hard not to like it," said White.
The reason why White wanted to start this club was because he had a friend who would leave school during the spring to go bowling for his high school and that made White want to start his own bowling club.
"I had a friend before high school who bowled for his school during the spring, and I said to him, 'well, we don't have that.' So, I went to Mr. Mooney and the activities director, and we got it going," White said.
Many kids took interest in the bowling club, and White wants to encourage kids to join the club because he says that it is a nice way to make new friends and it helps kids become a better sport.
"There are only benefits that can come from it, to make new friends and to have fun," said White.
Science teacher Nathan Mooney is the sponsor of the bowling club, he likes to bowl too, and he thought it would be a good idea to join the bowling hype. Other schools around the area also have a bowling club, like Lee's Summit schools, schools in Kansas City and schools in Kansas.
"Between November and Christmas break it was sort of getting off the ground and getting it out there," said Mooney.
David Pollard, who is a bowler and a parent of a student who goes to South, helped with the club trying to pick out a place to bowl at. They bowl at Lunar Bowl in Blue Springs every Wednesday.
Seventeen kids are in the club as of now, and they had a tournament on February 18th in St. Joseph. South was among 14 other schools that participated in this tournament, and they placed 12th.  So far, the bowling club has played in 3 tournaments. The club has two more tournaments in the next two weeks before state.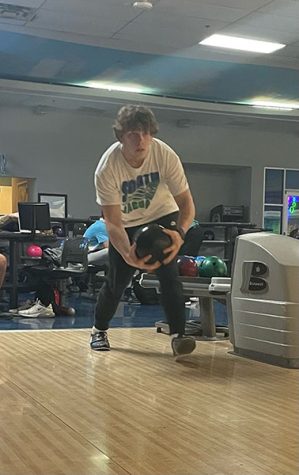 Bowling has been a growing sport throughout the metro area for a decade and that caught the attention of Mooney to sponsor this club. Mooney wanted to be the sponsor because he is also a bowler and says that it is fun and a good way to have an interaction with the students outside of school.
"It's pretty cool starting something from scratch," Mooney said.
Mooney also said that bowling can be a good sport to be yourself and have fun. Also, it's a good way to make new friends.
"If you are in a group with other kids that have common interests, then you will be more successful," Mooney said.
Senior Ewan Wendel joined the bowling club in January, but before he joined, he made his own bowling league in 2021 and stopped in the summer of 2022 when school started.
Wendel says that he has bowled for a while. During his childhood he bowled a lot, and he loves to bowl.
"It's so satisfying, seeing the pins falling perfectly and getting a strike every time is sexy," Wendel said.
Wendel joined the bowling club because he was good at it and that he's been bowling for a long time.
"I thought that I was good enough to join, but I thought that it would be fun and to be around other people who enjoyed it as much as I did," said Wendel.
Wendel encourages others to join the bowling club because he says that it is fun and that kids could make new friends while bowling.
"Even if you think you're not going to be good, it's going to be so fun, and it becomes a little easier to get along with the people you're bowling with," Wendel said.
The bowling club's last tournament was at Sterling Bowling Alley in Sugar Creek, Missouri. South placed 3rd out of 19 other teams. Districts start this weekend and state starts next weekend during spring break, from the 17-19 of February.