From kazoos to concert band with new teacher Johnson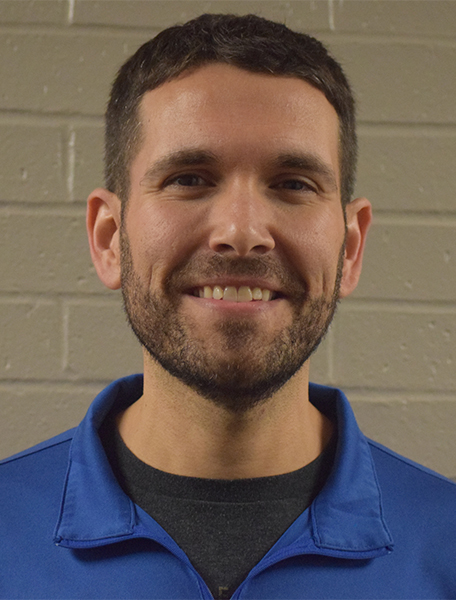 By Olivia Svoboda
Editor-in-Chief
Zachary Johnson has come to teach band at South after nine years of teaching elementary school. 
"My goal was always to work at a high school program like Blue Springs South, and I was fortunate enough to get that opportunity. I was at William Bryant, and it was a great fit when my kids were younger because they came to school with me and that was just a really cool thing, but as my kids got older, the timing felt right to make the jump over to instrumental music," Johnson said. 
Along with teaching high school, Johnson also teaches middle school. 
"I have three band classes here, and then I travel to Delta [Woods] and I help with sixth grade flutes, and I help with the eighth grade band and then seventh grade woodwinds. I also stay for a trumpet class over there, so I get the best of both worlds – a little middle school, a little high school," Johnson said. 
There's a big difference in teaching music in elementary school compared to high school. 
"Middle school is a little more like elementary school, especially with those sixth graders. There's a little more guidance needed, a little bit more of the fundamentals, but it's a really fun age group to work with. They're really excited about everything to do with band. In high school, we're working on higher level concepts, so it's just a little bit different, but I really truly enjoy working with both very equally," Johnson said. 
Johnson attended high school at Blue Springs, but he's now loyal to South. 
"Having worked across the street at William Bryant we were kind of part of the South family already, so I've definitely converted my family, and I live on the south side now. … Yeah, I went to Blue Springs High School for three years, but I consider myself a Jaguar definitely for life now. I've made the transition. It's no longer the purple and gold for me. I'm a South guy," Johnson said. 
Besides high school, Johnson attended a few different colleges. He has his bachelor's from Missouri State and his master's from the University of Missouri-Kansas City. He also has an administration degree from the University of Central Missouri. 
In college, Johnson decided he wanted to go into teaching band. 
"Band in high school was the thing that became what I was good at. [It's] where I made most of my friends. When I went to college, I reflected on that, that [it] would be really cool to be a part of giving that to some people in the future, helping people find that passion and their friend group. It's one of those things that carries you through your whole life," he said. 
Though Johnson must be well-versed in many instruments to teach band, he still has his favorites. 
"I am a trumpet player. I really have enjoyed playing the flute a lot more this year, as well. In elementary school, I love doing the ukuleles with them, so I like experimenting with different things, but in my heart I'm a trumpet player, through and through," Johnson said. 
Outside of band, Johnson likes to exercise. 
"I do a lot of distance running, so I try to run a 5k a day, [that] is kind of my motto, at least a three-mile run. So, that's kind of my thing, and then just spending time with my family as much as I can," he said. 
Johnson enjoys the family feel of South and the opportunities the high school presents to students. He's planning to be at South for a long time. 
"Definitely looking forward to being a South person and growing this program as best as we can. Hopefully [I] enjoy the last two thirds of my career, I'm about a third of the way through, so I got two thirds to be here and see what we can accomplish," Johnson said.