Teacher of the Year Barnett prepares her students for beyond high school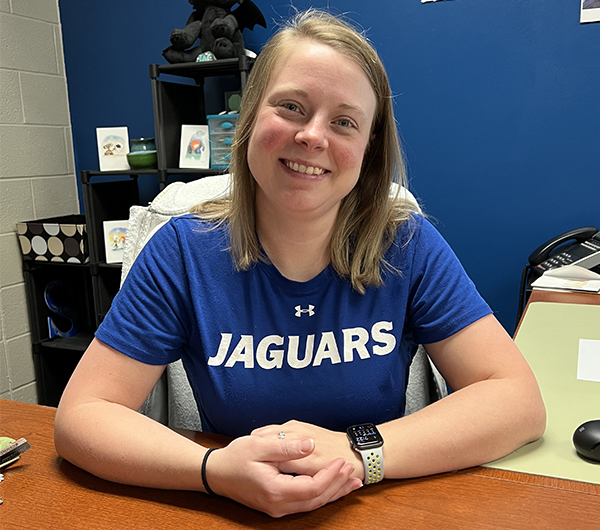 By Olivia Svoboda
Editor-in-Chief
She's a leader and a friend to her peers and students: Dannelle Barnett is South's Teacher of the Year. 
"My goal is to be – this is going to sound super cheesy – but to be the guide on the side. So, I don't want to be the main culprit of learning. … I want you guys to be in charge of your own learning, and I just want to be there to help facilitate that," Barnett said. 
When her students have a problem, math-related or not, she'll be there to help them, according to senior Taylor Dunn. 
"She's easy to laugh with. She will talk to you about what's going on, and she's very honest about it, which I look out for in a teacher's characteristics. I feel like she's good at making connections with students," Dunn said. 
Barnett is an avid reader, and Dunn has noticed that she will often recommend books to her students and transfer them back and forth. 
Along with teaching precalculus and statistics, Barnett is an ITech – a staff member who helps other teachers with technology in the classroom. She also plays a major role in the Teacher Leadership Committee. 
Principal Ryan Gettings recognizes the work that Barnett has done for South. 
"First of all, she's an outstanding classroom teacher. She works really, really hard to be her very best for kids day in and day out. She's a great colleague, a great teammate to our school. She is very involved and really is passionate about South. She really cares a lot about this school and our kids and that's just obvious if you spend any kind of moments with her," Gettings said. 
Barnett had two teachers who made her recognize her love for math and teaching, but they did so in completely different ways. 
"I did not like math when I was a little kid in elementary school or in middle school. It always was very nerve wracking to me. Then in my freshman year, my teacher made it very simplistic, made it something that everyone could do, and everyone could accomplish," Barnett said. 
This teacher had a unique way of helping his students learn from their mistakes. Barnett says he would have his students do the homework problems they got wrong on the board, and he would help them correct their mistakes. Once a student fixed all their problems, they would help other students still struggling. This made Barnett realize that she could teach others how to do math, even though she originally didn't think she could do it. 
Meanwhile, her sophomore year teacher taught her the importance of collaboration with her peers. 
"I had a teacher who literally just read the textbook to me. She would sit up, she had her geometry book, and she would read the entire chapter text. That's how she taught. Then when you asked questions, she would send you to another teacher to get help," Barnett said. 
Barnett and her peers had to create a study group, where they would teach themselves and each other how to do the lessons. Again, she was given an opportunity to realize her love for teaching. 
These experiences made Barnett realize her desire to be a teacher, but she went into math for a different reason. 
"I had a lot of people throughout my elementary and middle school [age] and even high school that told me, essentially, that I wasn't going to succeed in the math field because I'm a woman. So, it was almost like a slap in the face to those people to be like, 'Oh no, I can do this, and I will do this,' [along] with the other pieces of seeing that I can actually teach and that I enjoyed teaching," Barnett said. 
Barnett incorporates some of the teaching methods she learned from her own schooling into her classroom today. 
"[I] have you guys work in groups because that can become its own challenge in the workforce. Being able to work with people that either don't have the same understanding as you or don't have understanding at all that you have to work through. Also, the troubleshooting of working with another person that has a different personality than you and trying to figure out how you guys are going to work together to accomplish a task," Barnett said. 
She is still constantly involved in her students' learning, though, unlike her previously mentioned sophomore teacher. 
"She goes around and always will ask if anybody needs help. She will point out if somebody has that confused face – she'll always point it out and be like, 'What's wrong?' or something like that. Even if you make a stupid mistake, because I do that all the time, she'll laugh with me about it and we're able to clear out the issue," Dunn said.  
She also believes in the importance of homework, though to many students' dismays. 
"I think that it is important for you to have to do something outside of a school environment, because it's going to happen in a work environment. You're not always going to be in an academic environment. Maybe your job is you're in a whole cubicle by yourself, and you're going to have to figure that out, or maybe you're going to work from home, so you're going to have family members around you, distracting you while you're doing work," Barnett said. 
Gettings agrees on the importance of teaching these skills. 
"We need to be able to hopefully teach you how to keep yourself accountable [and] how to develop work ethic. Those kinds of things are skills you're going to need when you leave school. I think [Barnett] tries to do that in her classroom as well," Gettings said. 
Higher-level math might not be essential to many students' career paths, but Barnett understands the significance of classes like the ones she teaches. 
"My goal is that students leave with the knowledge that they can do something that's very difficult, regardless of whether or not they go into a math field. But the troubleshooting and growth that you get from the classes that I teach is so pivotal to student success, in their college but also in their work field. I want students to leave knowing that even if they run into something that they have no idea how to do, that they have the skills to work through it," Barnett said.
A committee of former Teachers of the Year and administrators selected Barnett for the honor. She is now in the running to be the Blue Springs School District Teacher of the Year.