New principal takes charge at South
By Lukas Belzeski
The Jag
Ryan Gettings is the new prinicpal at Blue Springs South.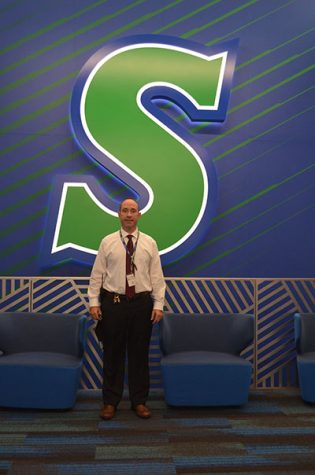 Gettings grew up in the small town of Boonville, Missouri. In school, he was serious and studious, helped by the good values his parents instilled in him. He went to UCM for his bachelor's degree, and to MU for his doctorate. He spent six years in the Marine Reserve Corps, starting at age 17. It was "eye-opening", and gave him strong senses of discipline and accountability, which affect his work even now. He misses the comradery, culture, and the sense of a greater purpose he felt during his tenure in the Marines. 
Gettings started his career in education as a science teacher who also coached football and track. Later, he was named an assistant principal at South. He didn't intend to be a principal, but now views it as a way of continuing his community service he started in the military. 
He believes it's important to be innovative in education and appreciates the broader move towards career/college thinking in education. In his opinion, the most pressing issue facing South is the gap in learning caused by the various COVID-19 related shutdowns. He also believes it's important to improve the school culture and climate with the values of People-First, Compassion, Respect, Empathy, and Growth, which can create a safer space for every kind of student. In his first year, Gettings believes the thing he can best improve is South's culture by putting the aforementioned five values at the front of everyone's mind. South's COVID-19 policy is determined by the local board of health, and he says South will follow what they say.
When asked who Gettings saw as the most inspiring leader in history, he had several answers. His first was Abraham Lincoln, the sixteenth president, for his diplomatic skill and ability to handle adversity. From a more local level, he said Dr. [Charlie] Belt, the former principal of South, who he sees as a mentor, though he shouldn't try to emulate him, just learn. From his own life, Gettings remembers his non-commissioned officers and commanding officers from his time in the Marine Corps.
His favorite movie is unequivocally "Top Gun", the 1986 action movie, partially because of his time and his brother's time in the military, but more so due to a passive interest in aviation. His favorite book is trickier to determine. He mostly reads biographies and military history. Those that came to mind, however, were "Truman" by David McCullough, "Team of Rivals" by Doris Kearns Goodwin, "Extreme Ownership" by Jocko Willink, and "Call Sign: Chaos" by James Mattis. Respectively, those books are a biography of President Truman, a biography of Lincoln and some of his Cabinet, a memoir of lessons on leadership from two Navy Seals, and a guide to leadership by four-star general and former Secretary of Defense James Mattis. 
Gettings is married with two kids, both of whom graduated from South; he considers himself a family man. He enjoys, in his free time, reading, running, all sorts of sports, and fly fishing. In fact, his ideal vacation would be on the Madison River in Montana, perfect for fly fishing for trout. Trout, he says, offer an additional challenge; it's like a form of art, catching a fish in a moving river with a fly rod. In a way, it's like being a principal.