Youth Symphony rocks Yardley Hall
By Amy Pacas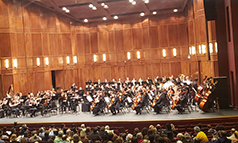 Managing Editor
On November 16th, I went to see the Youth symphony of Kansas City perform at Yardley hall in their kick-off concert for their 61st season.
Four South students currently play in the Youth Symphony of Kansas city. There are three in the Symphony Orchesta: Ethan Bahr-violin, Caroline Tieman-trombone, and Lily Benavides-percussion. The other student, Xavier Bowling-cello,  plays in the Academy Orchestra
 The Academy Orchestra played first. Academy was conducted by Kirt Mosier, They started out by playing Beethoven's Symphony No. 5 in C minor, followed by Prophet's dance and Joyride. Joyride seemed to be a fan-favorite, as the crowd energy was very high for this piece. 
Next came the Symphony Orchestra, the students in this orchestra are a bit older and can play more mature. Symphony was conducted by Steven D. Davis. To start, they played Festive overture by Dmitri Shostakovich then they performed four movements of Symphony No. 7 in A Major by Beethoven. These pieces sounded nice and and smooth like they were performed profesionally. 
They played a lot of Beethoven in this concert because this year is Beethoven's 250th birthday. I enjoyed the show a lot and I am excited to go back and watch their next concert.