Students bring life to 'Matilda'
By Lukas Belzeski
Copy Editor
"Matilda the Musical" exemplifies the talent of theater students here at South.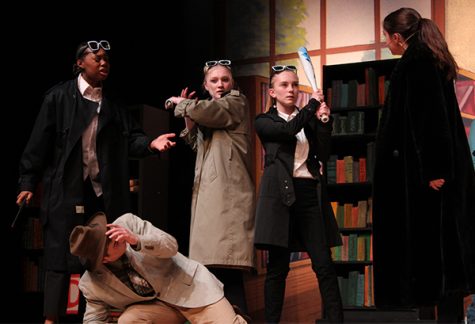 The stage production was adapted by Dennis Kelly in 2010 from the Roald Dahl children's story "Matilda." It follows the story of the title character Matilda, a genius young girl in an unfair world. She faces negligence and mistreatment from her family, and physical abuse from her headmistress at school. However, aided by her kind teacher, Miss Honey, and a breathtaking discovery, she wins the day and escapes her torment. 
The musical was performed February 25 and 26 to a full house each night. The original opening night of 24 February was rescheduled due to inclement weather, which, while it saddened performers they were thankful for a break from intense rehearsals.
Matilda was played by Daily Waters, senior. She has a long and storied career in theater, having performed every chance she gets since kindergarten, from community theaters, church productions, and every school show. However, this is her first time playing the leading role. It's been her goal all four years of high school, and she prepared hard, practically memorizing the soundtrack before auditions. 
She said while it is stressful being lead, the sense of success and triumph carried her through. She says that she brought more realism to the role, because in the movie and other stage productions the character Matilda starts off as bold and brash and uber-confident, while she played her initially shyer and meeker, as a child in her situation would be, and grew over the course of the show. She said the most difficult part of the character was doing a British accent; it's much too proper and posh for a "country girl" like herself.
The primary antagonist, Miss Trunchbull, was played by senior Eve Green. This was their largest role as well. After an unfortunate experience with theater in middle school and formidable stage fright, they took a hiatus until senior year. After forensics classes helped suppress their stage fright, they went to auditions. They received the role as main antagonist in both Matilda and the fall production "Puffs". In their role as Miss Trunchbull, they said "I brought a sense of comedy and camp to the character that made her both evil and captivating on stage."
Tim Haynes, theater teacher, said he picked "Matilda" because students adored the story, and, in fact, this production changed his mind on the musical after he initially disliked it. 
According to Waters, Green, and Haynes, this was an especially challenging production. Unusually, the performers often needed to speak prose to the rhythm of music, even when outside of a song. 
Additionally, dancing is very prominent in this show. This all led to strenuous rehearsals and caused the team to fall behind. However, according to Daily, in a fashion recalling classic sports movies like "Remember the Titans" or "Rocky," the cast poured their hearts into the show, rehearsing for hours on end, pulled it back from the brink. 
Waters described the perform-ances as "phenomenal", that they "broke the scales," and only proved how hard they worked. Both Daily and Eve said that the rescheduling of opening night was needed after such intense rehearsals, and only made the following shows that much more special.
Haynes believes that the show went about as well as it possibly could have. Waters and Green both described the production as 10/10, as well as their own performances. Green said that without the South Theater Department, "I wouldn't have grown as much as I have today." Waters said that this was her best role ever, the best show she's ever contributed to, a dream come true, and perhaps "the best moment of my life." 
Waters and Green both adored the production and, as seniors, were happy to cap off their high school acting career with "Matilda."
 Green said "my BSSHS theater experience – though brief – was a blessing and, I wouldn't change a thing about it."