"My Fair Lady" cast hard at work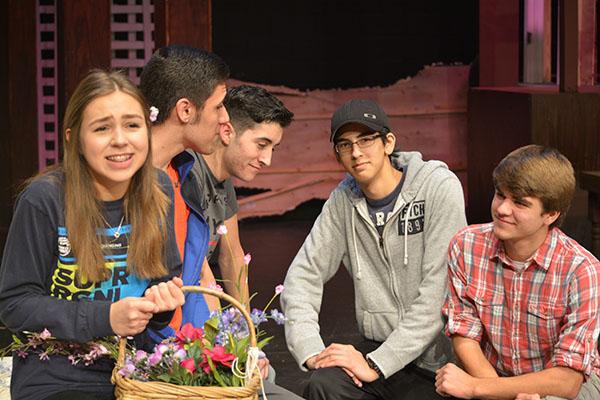 Hang on for a minute...we're trying to find some more stories you might like.
Note: Photo identified as Ethan James has been changed to correctly identify Ethan Davis
Blue Springs South's vocal and instrumental music departments are taking on the challenge of the musical "My Fair Lady."
South students involved in the play have been preparing for this show since early November. The show takes a lot of preparation and time because of the collaboration between the vocal and instrumental departments. Toward the beginning of rehearsals, they prepare separately but as opening day creeps up they are forced to rehearse together. Director and theater teacher Susan Cooper tells how difficult it is to keep the two departments in sync.
"It's like playing three-dimensional tic-tac-toe. It's hard to orchestrate because if you change something on this level, it changes things on the second and the third level. There are more people, sets, and costumes involved," Cooper said.
The story of "My Fair Lady" is the story of Eliza Doolittle. She is realizing that she isn't where she wants to be in this point of her life, but this opportunity comes up to improve herself and be able to get a better job.
The character of Eliza Doolittle is being played by freshman, Madelyn Padget. She explains how it feels to play Eliza.
"Being the lead role as a freshman has absolutely been a dream, but definitely a challenge and pushed further towards the extent of my abilities, to see what I can bring out in myself. Our upperclassmen are spectacular. We, as freshmen, look up to them and respect them. It's exciting to see the younger class do amazing things as well," Padget said.
This isn't the first time that a freshman has gotten the lead role, although it is very rare. Cooper said there are many talented theater students at South.
"We are just fortunate to have lots of depth in our program. It's not just strong freshman, we also have an extremely deep sophomore and junior class too," Cooper said.
The male lead role, Henry Higgins, is played by junior Noah Sweeney. Henry Higgins is one of the more iconic roles in the play. With Sweeney knowing this, he explained how he prepared.
"I've watched the movie a couple of times and I've also watched videos of the character on YouTube. I also got a lot of help from Mrs. Cooper and Mr. Bean (vocal music teacher). They helped me discover who he really is," Sweeney said.
There is usually an ulterior motive within a play. Cooper explained what the ulterior motive is and how it applies to us.
"This play is so important especially for this age because everyone in high school is put into categories or is labeled. Like some people are theater geeks, nerds, jocks, and a bunch of other things, but this play shows you that you can set all of those stereotypes away and you can become whoever you want to be," Cooper said.
The musical's opening night is February 9 at 7 p.m. You can also see the musical Friday. Februray 10, at 7pm, and Saturday, Feburary 11 at 1 p.m. and 7 p.m. Tickets are $8 in advance and $10 at the door. The student matinee is Friday, February  10.