Girls track shows optimism heading into opening meet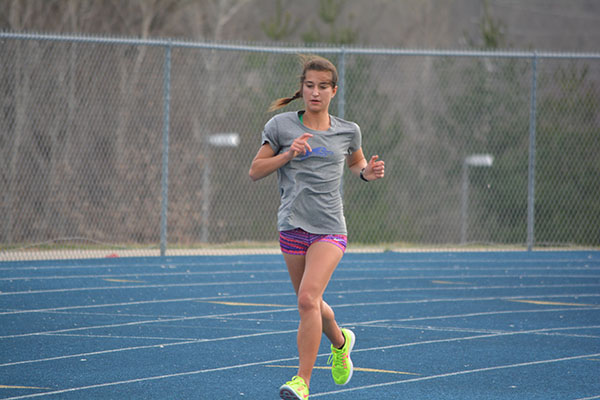 Hang on for a minute...we're trying to find some more stories you might like.
Practice is just getting started for the girls track team, and the first meet is quickly approaching.
Junior distance runner Tori Findley talks about what she did to prepare for this season during the offseason.
"I ran in some indoor meets, which are so much different than outdoor meets, and I ran in cross country and ran on my own during the winter, which helped me keep in shape," Findley said.
The team is coming off a third place conference record last year and are looking to build off last season. Girls track head coach Ryan Unruh talks about how the team wants to build off last year's success.
"We had some really nice momentum going at the end of last season. We saw considerable growth from our older athletes and had some outstanding performances in the state series from our elite athletes. We would like to see that continue," Unruh said.
Many athletes are returning from last season, including senior thrower Maleia Byrd, and are ready to get season started and compete in the meets. Byrd talked about what her goals are for this season and on what she wants to improve on from last year.
"Last year went good, but I want to improve on my discus throwing and I want to get to sectionals then worry about state competition later," Byrd said.
The track team is solid in every part of the team, according to Coach Unruh.
"We are fortunate to have some of the best athletes in their respective events in the state of Missouri. Aijah Venerable is one of the best sprinters in the state and the same can be said for Leyla Edwards in the jumps. Both have all-state potential. Tori Findley and Danielle Hotalling are two of the best distance runners in the state. We have some nice depth in a few areas as well with some exciting young talent. Their continued growth and improvement will help our team," Unruh said.
Some athletes are choosing to pursue their running, jumping and throwing career in college but Senior Maleia Byrd says that she isn't going to.
"I want to throw in college and I have offers but I'm not going to because I'm going to medical school instead," Byrd said.
Unruh talks about how the team wants to build off last season and how he thinks the season will go.
"We would like to see that momentum continue. We are excited about the season. We have a nice blend of experienced athletes and new talent that we feel like will have the ability to compete at a high level at all of our meets. We have a lot of work to do, but are off to a great start," Unruh said.
The first meet for the girls is Wednesday, March 22, at 4 p.m at South against William Chrisman and Fort Osage.