Soccer team ready for district tournament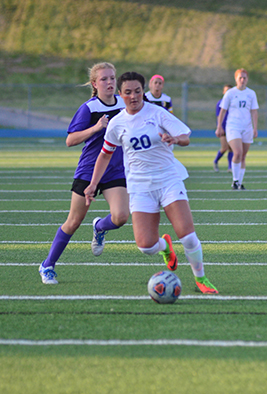 Hang on for a minute...we're trying to find some more stories you might like.
With a record of 14-6 (7-4 in the Suburban conference), the lady Jaguars have surpassed last year's win total and hope to finish the regular season on a strong note as they head into the district tournament.
Although the team is out of contention for a conference title, senior goalkeeper Megan Swanson believes the season is going better than expected.
"The season is going great," Swanson said. "We are beating some big-name teams like Lee's Summit West and Lee's Summit and couldn't be more excited about that. Our district tournament will be challenging, playing against teams by the likes of Lee's Summit North. We haven't gotten past them since I've played here but if there's a year we're going to do it, it would definitely be this year."
The team is incredibly talented, with a handful of players already committed to play in college. However, many of the players believe that chemistry and friendship are what propel them to victory.
Head coach Todd Findley weighs in on the team's chemistry and how he believes it has helped them down the stretch.
"I couldn't be more satisfied with the team's willingness to work together," Findley said. "As of late the team has really gelled together and it shows in big ways like our 4-1 win over Lee's Summit on Monday."
The lady Jags recently completed a season sweep of rival Lee's Summit West. This hasn't been accomplished in the careers of this year's seniors and they are ecstatic to have such an impressive accomplishment under their belts, especially considering the lady Titans defeated the lady Jags in the district tournament last season. Senior forward Nina Stine broke the school record for career goals on senior night against Park Hill. She believes the team stands up well against the competition they will face in districts.
"We are coming together as a team and it is reflecting on the field," Stine said. "I think we have a good chance at districts as long as we play how we know we can."
The lady Jaguar soccer program is on an upward trend and is becoming a perennial contender for a conference title every season. The team will lose a group of five seniors following this season, leaving them with a talented group of underclassmen.
Senior forward Mallory Kroencke is excited to see what the underclassmen can do in the future and hopes to help them in their future endeavors.
"Our underclassmen are great," Kroencke said. "My favorite part of the season is getting to play with our amazing younger players and help them adjust to high school soccer. The future of the program is bright."
The team will start the district tournament on Monday.