Volleyball season ends in state quarterfinals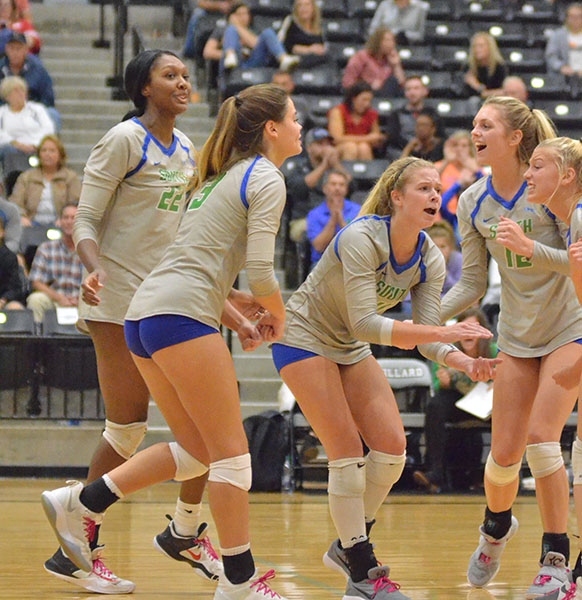 By Emily Wilson
Reporter
Blue Springs South varsity volleyball fell to Willard two sets to one in the state quarter final match on October 27th, 2018. It was a devastating loss for seniors that were a part of the 2016 team that made it to this point and lost during the second game. The girls had mixed emotions about the loss but were grateful for their season and proud of what they accomplished.  
The team lost the first set 23-25 but came back in the second 26-24. South used a lot of energy in the second set and lost during the third 25-24. Many of the girls agreed that it was very hard to play such high-level games back to back as they had about a 30-minute break between matches between Carl Junction and Willard. The loss ended the Jag's season and sent Willard to state, where they lost to St. Teresa's Academy in the first round.  
The team had a 29-7 run and finished as conference, district, and sectionals champions, as well as top 8 in the state. For senior, Rylie Gregston, making it to sectionals was the biggest highlight of her season. 
"Willard was a good team and I definitely think the game was even matched," she said. "All the teams who make it past districts are challenging, but I definitely think we could have beat them if we would have played at our highest level."  
Gregston and fellow senior Taylor Brungardt, were co-captains this season and were very proud of their team.  
Despite losing to Willard, the team was pleased with their season and all the things they accomplished. This was the Jag's first season with coach Mallori Perry as varsity head coach. "These players were my first season as a head coach, my first group of high school athletes I could call mine, my first win, my first loss, not to mention my first yellow card, my first conference champions, my first district champions, and my first top 8 in the state. They went through every first, right by my side," Perry said in regard to what this team as meant to her. "The players have created a new culture here at South, not just winning, but a family. A family who cares for one another on and off the court. It has been a joy to watch each player grow not only as players, but as people the last eight months and I don't regret one minute spent with them."  
Senior Cori Brungardt said that she thinks Perry was one of the best parts of their season. 
"I think that Perry did a really good job of changing the program," she said  
As well as the new coaching staff, the girls enjoyed the ride and all the memories they made. Senior Hannah LaPour says her favorite memory was the Dig Pink game against Blue Springs High School because it brought the team and community closer together. All of the seniors were happy with all they accomplished this season and will miss wearing the Jag uniform next season. 
"Wins aside, at the end of the day it's all about building relationships and making our players better people," says Perry. "I hope each player leaves this gym and season with more than just the memory of their last match together, but what was accomplished in such a short amount of time and the memories we made together." Even though their season has come to an end, Gregston, LaPour, and, senior Morgan Gish will all be playing at the 22nd Annual MOKAN All-Star match on November 18.