Girls basketball undefeated to start the season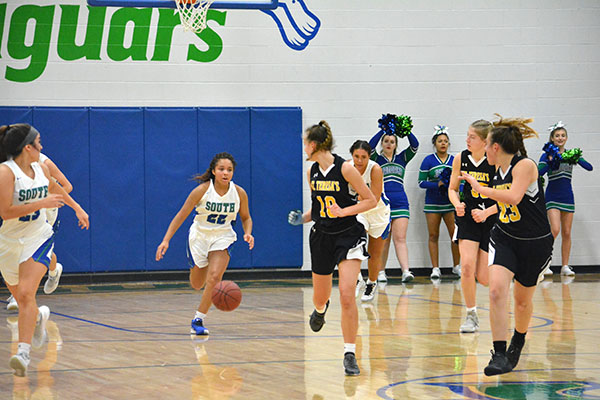 By Sam Harding
Reporter
The Girls basketball team has started their season 6-0 with 3 wins against Raymore-Peculiar 71-40, Parkhill South 55-26, St. Teresa's Academy 55-41. 
The girls also picked up 3 more wins when they played in the Winnetonka tournament and brought home a first-place trophy beating out Ruskin 66-24, Oak Park 52-43, and North Kansas City 46-43 in the finals. 
Coach Kory Lower was excited to win the tournament. 
"It was awesome. It's been awhile since the girls have won a tournament at south. It was just nice for the girls to get some validations for the hard work." Says Coach Lower 
"I think some of our strengths as a team is that we work really well together, we trust each other, and nobody is selfish, we still have a lot to work on to get better but I'm super excited for this season." Senior Sophia Lopez said. 
Although the team is undefeated, they will have some tough games this season says Coach Lower. 
"Our conference will be tough. Lee's Summit West are the defending conference champs back to back years, and they are going to be good again. They just beat Blue Springs and they are good as well with a lot of young talent. Park Hill had a move in and a lot of girls returning, and we split with them last year. We are in a tough conference, but we are up in there with who will take it over." Says Coach Lower. 
Despite having a tough conference, the team is super excited for this season. 
"I'm looking forward just to surprising a lot of people this season. This team is really special to me especially because it's my senior season, and I think we have a really good group and I'm excited to see how much we accomplish." Lopez said. 
Senior Elizabeth Ernsting is also looking forward to this season. 
"I'm excited for this season because I think that we could do very well this season with the pieces we have." Ernsting said. 
On December 19th the girls play Ruskin at Ruskin Highschool. They play in the Jefferson City tournament December 27th-29th, all games will be played at Helias High School.